Nenagh AFC 'A' claim League and Cup double
 Nenagh AFC 'A'         3
Nenagh AFC 'B'           0
Report by Michael Brophy at Brickfields
Bragging rights as well as a league and cup double were secured by the Nenagh AFC 'A' side at Brickfields last Friday evening where they overcame their club mates in comfortable fashion in the Tipperary Cup Final. The NT&DL Premier Division champions began to prove their superiority late in the first half after even opening exchanges, and the 'A' side continued to exert their dominance on proceedings until the final whistle. The game was still competitive until the early stages of the second half before a red card for Danny Butler left the 'B' team with an impossible task of overcoming the then 2-0 deficit with only ten men. Padraig Ryan scored soon after to secure the victory in front of a healthy crowd in Nenagh. The superior quality and composure of the 'A' side was epitomized by the class of Mark McKenna in defence and midfielder Michael O'Gorman, who was involved in the setup of the first two goals and remained a constant threat throughout the game. The opening stages were cagey with both sides afraid of making an early mistake. Long range efforts from Michael O'Gorman and Michael Hogan failed to trouble goalkeeper Kevin Coonan. The 'A' team soon began to dominate the ball in midfield, forcing the 'B' side to live off chances on the counter attack. Willie Darcy's shot was gathered easily by Robbie Ryan after the 'A' side lost the ball in midfield. The first goal arrived after 18 minutes after typically patient play from the 'A' team led to an opening. Good interplay between O'Gorman and Hogan inside the box led to the former being fouled by 'B' defender Gary Byrne just as he was about to shoot on goal. The subsequent penalty was hammered home by Mark McKenna, who sent Kevin Coonan the wrong way. The 'B' side enjoyed their most sustained period of pressure in the match after the goal. A long range free kick from Luke Kennedy was tipped over the bar by Robbie Ryan after the ball bounced awkwardly off the turf. Minutes later Danny Butler spurned a good chance on the counter attack after good interplay with Willie Darcy left him with just the goalkeeper to beat, but he shot over the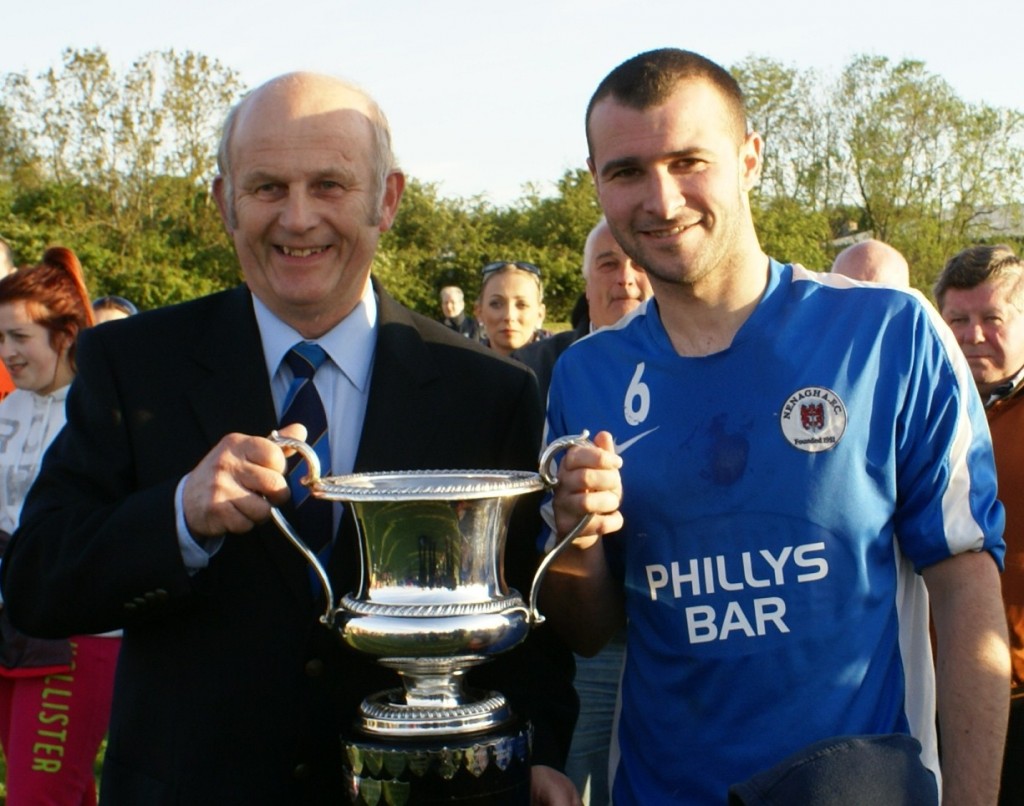 crossbar. The 'A' team soon regained the upper hand in the latter stages of the half. Padraig Ryan's left footed shot went just over the bar before the second goal arrived as play entered injury time. Michael O'Gorman found himself with lots of time on the right hand side of the penalty area, before he picked out Arthur Mitchell with a low cross at the back post. Mitchell made no mistake as he slid in to knock the ball past Coonan into the net. The 'A' team created the better opportunities in the opening stages of the second half, with Michael Hogan and Jerome Ashman going close before a deflected free kick from Hogan went just over the crossbar. The 'B' side suffered two blows after half time. Midfielder Luke Kennedy was forced off with an injury before striker Danny Butler given a straight red for an off the ball incident with Mark McKenna. The 'A' team enjoyed even more possession in midfield leading to more opportunities. Shane O'Gorman cleared the ball off the line after a mix-up with Kevin Coonan before a third goal for the 'A' side secured victory in the 65th minute. Thomas Sheppard played in Paul Kelly on the left hand side of the penalty area, who found Padraig Ryan in front of goal. Ryan persevered to poke the ball inside Kevin Coonan's near post after his initial shot was blocked. The remainder of the game lacked intensity as the 'A' team kept the ball at will and built numerous opportunities with which to increase their lead. The troublesome Thomas Sheppard came close to a deserved goal in the final minutes, but his sweetly hit half volley from the corner of the penalty area hit the crossbar.
MATCH DIGEST
Man of the Match: Michael O'Gorman (Nenagh AFC 'A')
Goalscorers- Nenagh AFC 'A': McKenna (18 pen); A Mitchell (45), P Ryan (65).
Nenagh AFC 'A': Robbie Ryan; Roy Creagh, Cathal Coonan, Mark McKenna, Paul Kelly, Jerome Ashman (Capt), Arthur Mitchell, Michael O'Gorman, Michael Hogan, Padraig Ryan, Thomas Sheppard.
Subs: John Mitchell for Ryan (67); Derek McKenna for Kelly (70), Darren Mitchell for Ashman (74).
Nenagh AFC 'B': Kevin Coonan; Gary Byrne, Shane O'Gorman (Capt), Michael O'Brien, Mark Shoer, Tommy Martin, Tommy Mitchell, Luke Kennedy, Joe Dillon, Willie Darcy, Danny Butler.
Subs: Bryan McGee for Kennedy (55 inj); Dylan Walsh for Shoer (56), Ben Banaghan for Martin (79).
Referee: Liam Kelly

Nenagh AFC 'A' & Nenagh AFC 'B' combined squads following NT&DL Tipperary Cup Final